http://translate.googleusercontent.com/translate_c?depth=1&hl=en&ie=UTF8&prev=_t&rurl=translate.google.com&sl=fr&tl=en&twu=1&u=http://regardantiquaire.canalblog.com/archives/2010/01/28/16704564.html&usg=ALkJrhjeAg_EuIqSUA3mIASSiPJn-XC56w
January 28, 2010
The art of rock crystal
Crystal in the furniture used to describe two very different materials: natural crystal or rock crystal, which is the hardest of all varieties of quartz, colorless and crystal manufactured, which is, strictly speaking, a glass of finesse, transparency and exceptional sound.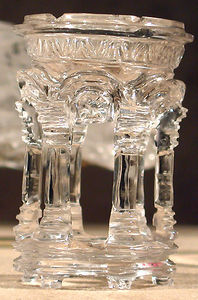 Flat rock crystal shaped temple
Roman
The e rock crystal has been known since antiquity, and was always considered equal to a precious stone he used for making art objects of great luxury, as well as various ornaments.
o n recognized with its transparency and tiny inclusions, according to specific fields (the Alps, Madagascar and Brazil).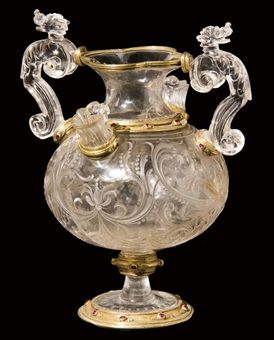 Pot bouquet crystal, Milan, XVII
Yves Saint Laurent and Pierre Bergé
(C) Christie's
U A Middle Ages,
they make all sorts of relics. It also delivers rock crystal in very thin plates, such as ice today to protect delicate miniature paintings, and to protect the relics.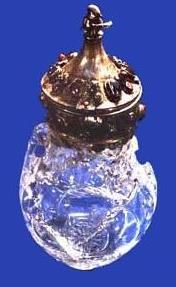 Reliquary rock crystal and gilt
Thirteenth century, (c) Normandy Museum
During the Renaissance, in the courts of Germany, Italy and France, the rock crystal objects, true masterpieces are very popular.
D es craftsmen carve and dig in the crystal mass, to make all kinds of decorative and utilitarian objects such as goblets, cups, vases … that once polished and engraved with arabesques and various ornaments, are richly decorated with precious mounts enamelled gold or platinum.
Chandelier Regency, eighteenth century
(C) ARTCURIAL
A u seventeenth and eighteenth centuries, this area is used to make scarce and expensive chandeliers and stunning chandeliers.
T he first chandeliers made of rock crystal back to the mid seventeenth century. The crystals are so small and are pearls strung chandeliers called laces. In the early eighteenth century the discovery of new careers allowed to get larger items which could then be turned into drops, stars or pyramids.

Size rock crystal pendant in
(C) rings
Learn more:
The article website Qantara on rock crystal
the company rings , who makes luminaires rock crystal
cristal de roche , lustre , objets d'art
Read More